Meet Rachel
I was born with bilateral hip dysplasia. Although I wore a brace as an infant, it progressively worsened as I got older. At 12 years of age, I had two extensive surgeries for femoral anteversion. While that fixed the rotation of my femurs, it did not fix the dysplasia. I was in constant pain for two years. I had to have home bound schooling and couldn't walk around for any length of time without terrible pain. When my mother reached out to Nashville Sports Medicine about my case, they immediately helped set things in motion with Dr Tania Ferguson. Their staff at the clinic were nothing short of phenomenal. At the age of 14, I had surgery on March 27th 2017 at St. Thomas Midtown. It was the first periacetabular osteotomy performed at St. Thomas and I was the first pediatric patient on the surgical floor where I would stay for 6 nights. Dr. Ferguson, the hospitalist, anesthesiologist, nurses, nurse practitioner, physical therapists and every person that cared for me led me to where I am today. Walking without pain. Living without pain. I am back in school and can go places and walk around with my family without having to lay in bed for days afterward. These people, particularly Dr. Ferguson, are healers. I still have work ahead to continue strengthen my hip. Someday, I could require the same procedure on my right hip. While I hope that I don't have to have additional surgery, I know the incredible team of people at Nashville Sports Medicine and St. Thomas Midtown are without a doubt the best.
Meet Melvin
"I can't praise Dr. Ferguson and her staff enough, they are top notch, we are so happy with the decision we made to choose her as my doctor. The Game Ready is worth every penny, I could tell a huge difference in healing time as opposed to past surgeries."
This patient underwent bilateral, two-sided hip replacement surgery.  He is seen here walking, wearing bilateral Game Ready ice sleeves walking well shortly after surgery!  He used no IV pain medications and felt "sore" only.  He said, "I woke up, and my hip pain is just gone!"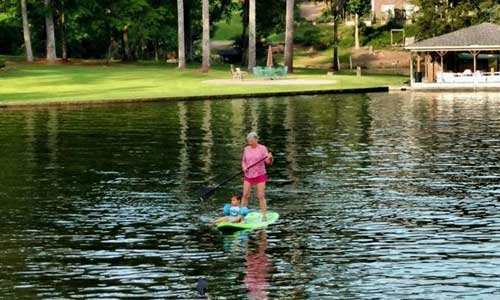 Meet Mary Lee
"I am an active 69-year old who enjoys sailing, hunting, traveling, and snow skiing. About two years ago, I suddenly started developing pain in my hip and groin. I started to limp slightly, but figured I could just walk it out.  I had an x-ray in February of 2016 and was told I had severe arthritis in my left hip joint. After some physical therapy and trying all the products advertised for joint pain, I finally began to limp so badly that my right hip and back were starting to hurt.  I was in constant pain, taking at least four Napricin a day.  We are now in February of 2017.  One of the best decisions I ever made was to go to Nashville Sports Medicine and Orthopedic Center as recommended by two of my neighbors. The other best decision was that Dr. Tania Ferguson decided to come to Nashville to perform anterior total hip replacements.  After going through the surgery and recovery I am not sure why I waited two years to have something done. I was only in the hospital one night, had no time in a rehab center, and was given PT exercises to work on right after surgery with email connection to the therapist to receive more exercises when needed. Surgery was on April 11th, and I was released (from therapy) on May 19th.  I no longer limp and am looking forward to a month of skiing in Winter Park, Colorado in January of 2018.  Attached is a picture of me paddle boarding (in) the middle of July with my 2 and 1/2 year old grandson on the front of the paddle board.  I could not have managed the board, much less the grandson, before this surgery.  
I sometimes am in awe that I can walk normally without pain and that I have my active life back. "